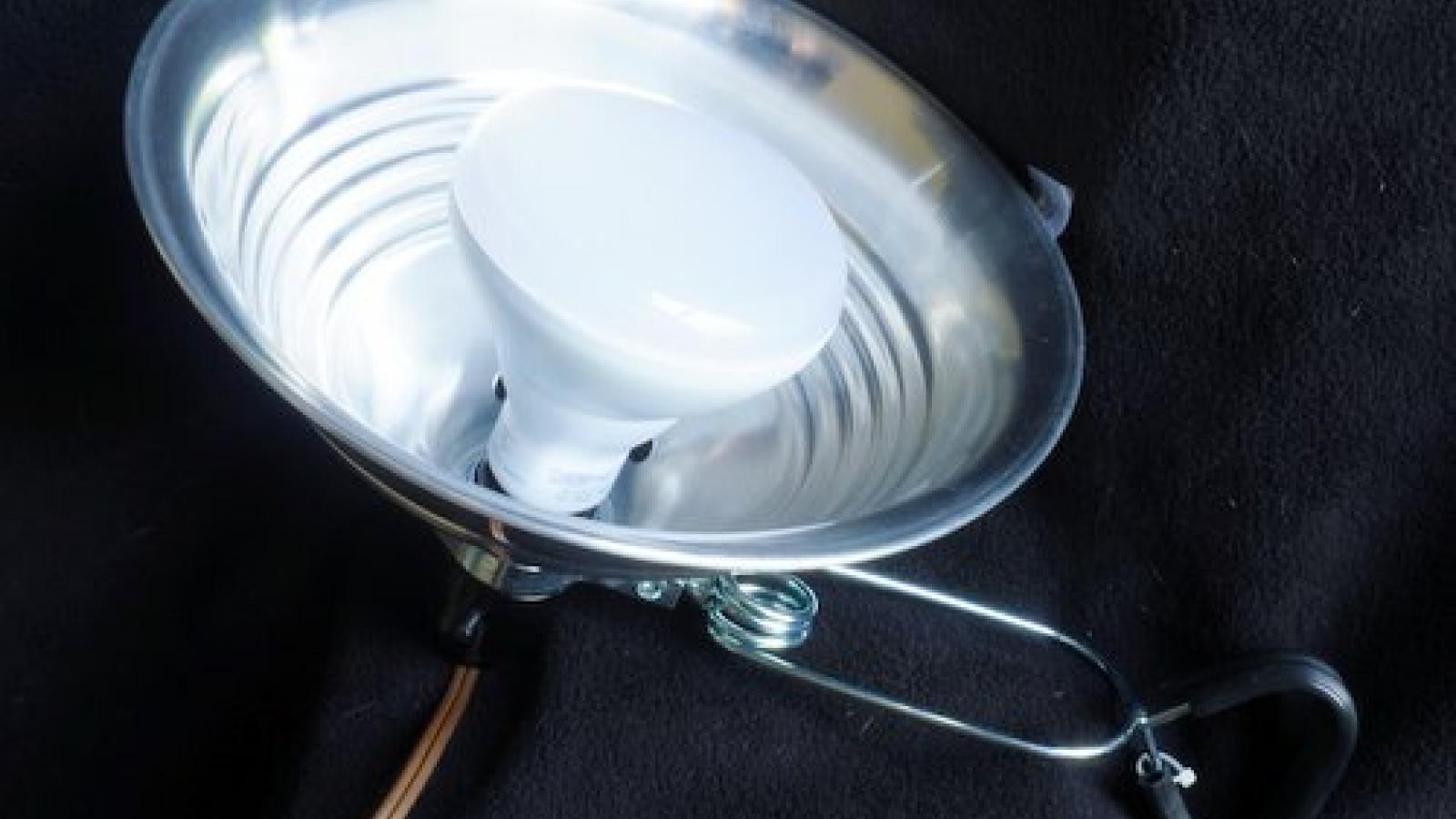 Body
ASCTech studio
in 142 Hagerty Hall (left) offers a complete array of audio and video production services for instructors in the Ohio State University College of Arts and Sciences. The ASCTech studio will record and produce your videos for you or you can choose to do your own production of video shot at ASCTech studio, if that's more convenient for you.
The
However, there are times when instructors may prefer to record their own instructional media. This page focuses primarily on the low-end production techniques and tools where many instructors begin work with online media. More advanced techniques are described for mid-range and high-end tools and techniques in case you would like to move towards that area or if you happen to already own equipment like a DSLR. 
Video with laptops and cell phones
Video quality has become much better on consumer devices such as laptops, tablets, and cellphones, and in conjunction with proper recorder placement, enhanced sound capture, and good lighting, engaging video can be produced. Below are some suggestions about capturing more engaging and attractive video with common or low-cost devices.
How to record video with a cellphone
Position the camera at eye level
It's a natural reaction to film with a laptop or tablet in the same position that you'd enter text. This can lead to unflattering images.
Step 1: Good positioning of laptop or tablet camera
When shooting with laptops or tablets, move the camera to roughly eye level. This will prevent unattractive shots from below. 
Step 2: Minimize background distractions
Step 3: Orient correctly. Most video is wider than it is high. Turn your phone on its side when capturing video.
Audio
As the primary way that students will take in information, audio is extremely important an instructional video. Unfortunately, many consumer devices like laptops, tablets, and cell phones capture less than ideal audio. This is partially a function of compromises made in making them small and partially a result of the distance between the devices and the subjects. Please consider using one of the methods below to capture sound from an external input.
External microphones
Headset microphones ($10-100)
Although the ASCTech studio has a variety of high-end microphones available for demonstration, capturing acceptable sound does not require spending a lot of money on microphones. Instead, focus on getting the microphone as close to the source as possible. Close sound pick up is a strong point of headset microphones, which can be purchased for a fairly low funding ($10-50). You'll capture sound which is far superior to that from most on-board microphones.
Cost effective headset features
1. Microphone for very close pickup of voice
2. Volume control for headphones
3. Dual inputs for microphone and headphones
4. Headset adapter to allow headset to be used with some laptops and cell phones.
Even inexpensive microphone like the one above
will offer better sound than an on-board microphone, because it is much closer to the source and because it is unidirectional (which means it rejects sounds coming form directions other than where the microphone is pointed).
If you have a gamer in your household, you may find that a gaming headset will greatly enhance your audio quality. Plus, you may find that students respond well to an instructor with shared interests. 
The downside is that headset microphones are obvious in a video shoot and take away from the sense of a conversation. If you're recording mainly voice over PowerPoint slides, a headset mic is a great way to go.
Free-standing microphones ($50-100)
The Ohio State University's Kiplinger program recommends the
Rode Smart Lav
for multimedia journalists due to its rugged design and good sound. It will work with most cell phones and many laptops (others will require adapters).
Blue Snowball
 just out of the shot but still close to the speaker, will result in very good audio collection.
USB microphones generally offer better quality than analogue (headphone) microphones, although they don't cost that much more. Placing a USB free-standing microphone like the
Lighting
Next to poor audio, poor lighting is the most problematic feature of bad video. Careful setup of lighting can change your videos from drab and unprofessional to a much more engaging experience. The staff at the ASCTech studio is well versed in lighting and can visit your office (if that's where you're recording) to help you to set up your lights for best arrangement. 
Note: the further away from the subject the lighting source is, the smoother and more diffuse it becomes and the less harsh shadows become. The trade-off between lighting distance and lighting intensity loss means that you have to find a compromise between having nicely diffused and sufficient intensity lighting. 
Some low-cost lighting solutions include the use of work lights with clamps ($10-15) fitted with medium-intensity (23 W) compact fluorescent light (CFL) bulbs covered with parchment paper. The CFL does not get hot enough to set fire to the parchment paper and so this could be used safely for extended video recording. Place them several feet away from your subject, off to one side, and you'll see a marked improvement in color accuracy and distribution.
Laptop or tablet teleprompter software
Many instructors rely on notes or perhaps even scripts when speaking to large groups, such as classes. Fortunately, software programs exist that help deliver material to speakers during a presentation. Laptops and tablets (or even cell phones) can be loaded with relatively low cost teleprompter software that can be scrolled with you as you speak. However, since they do not project text in front of the camera like a traditional teleprompter, they require that you constantly look off screen when you are recording. It doesn't matter much whether you deliver a script directly to the screen via a teleprompter, like Dr. Krisin Smock:
Or if you look slightly to the side of the camera, like Professor Sonia BasSheva Manjon:
What matters more is
1. Tone variation. Don't be monotone. Add pauses. Allow your excitement for your material to show.
2. Consistency in gaze. Shifting focus can make speakers seem untrustworthy and viewers may be distracted
One great advantage of filming is that you can reshoot sections that don't go well and insert that clip into the recording in post production.