June 26, 2015
Astronomy Gets "in Your Face"
Image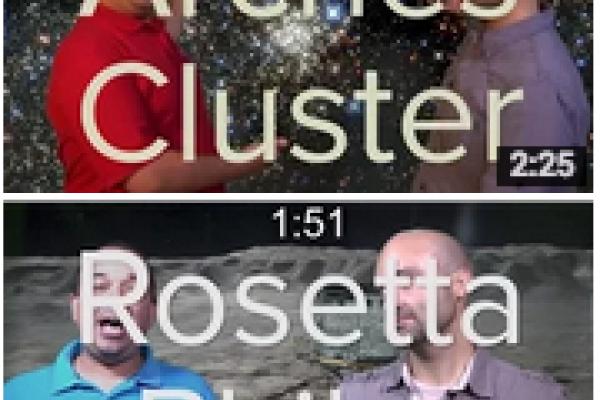 Description
Golden arches, lightsails, filo dough: how can these be related to astronomy?
Two Ohio State employees provide the connection through their "Space in Your Face" vodcasts. Paul Mathew Sutter, visiting scholar, and Wayne Schlingman, Director of the Ohio State University Planetarium, have finished their first month of weekly productions and they're looking forward to more.
"We got the idea after a meeting with Ty [Owen, Manager of Theater Operations] at COSI. And we modeled them after the short videos that COSI shows before science demonstrations and events," said Schlingman. "Those 1-5 minute explanations that give context for the event."
 "We liked that they were hosted by experts, a role we thought we could fill for astronomy," continued Sutter.
Sutter brings media experience from hosting his weekly "Ask a Spaceman" podcast and his on-camera experience from his multiple appearances on "Good Day Columbus" discussing astronomy topics.
Schlingman brings experience with narrating the popular public events at the Ohio State Planetarium.
Sutter sees the videos as a way to "educate and entertain and give 'behind the scenes' information to the YouTube generation." "But in bite-sized bits," continued Schlingman, "for the generation that uses YouTube and the Internet as its primary means of getting information. They come to us after they're done playing Fruit Ninja."
A sense of humor and fun is important to these scientists, whose on-screen banter is intended to make the potentially dry topics more palatable. "I use short informational videos before classes," Schlingman said, "because they're really useful for engaging students and still getting information across. It helps to set the mood that class will be interesting and engaging."
For inspiration, the pair look to media-savvy astronomers like "Bill Nye, [Carl] Sagan, and Neil Degrasse Tyson, [who] provide something for the community that extends astronomical ideas to the people we want to interact with. People are always listening to them; they're a guiding light for the kind of impact we want to have," said Schlingman. But teachers figure large as well, especially for Sutter who wants to emulate his "college professors and other teachers, the ones who could bring the subject to life."
Their work is supported by ASCTech, whose Academic Technologies Team aids in "not just running the camera and putting it together but [giving] feedback," said Sutter. Schlingman remarked, "If it weren't for [ASCtech], we couldn't do this.
Schlingman hopes the podcasts "generate more interest in central Ohio astronomy, because we have many great places where people can learn about astronomy: Perkings, Dennison, OSU Newark, OSU Columbus, COSI."
Got an astronomy question you'd like to have answered? Tweet Paul or Wayne.
---