April 26, 2019
Drupal 8: Making your website the best it can be
Image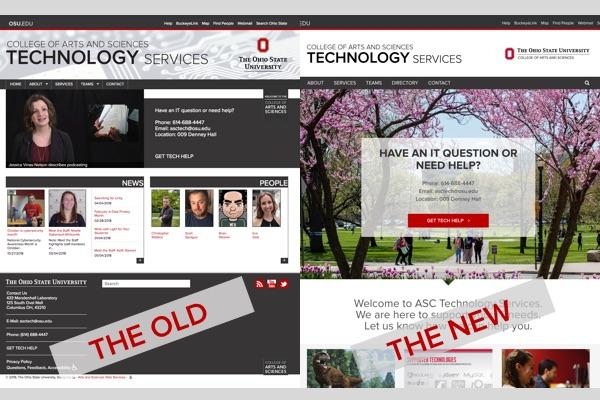 Description
It's mobile-friendly!
It's accessible!
It's Drupal 8 and it's coming to enhance your area's website!
The ASC Web Services team adopted Drupal 6 in 2010 to create a more uniform and accessible web presence for the college. Since then, nearly 200 websites have adopted the ASC template, from large 300-page sites like The Department of Mathematics' to 20-page informational websites to everything in between.
Now, the ASCTech Web Services team has started migration from Drupal 7 to 8, beginning with the asctech.osu.edu website.
"We started with the ASCTech site because we knew it and it's small," said Dale. "We learned a lot in the ASCTech migration process that we can use to make other website transitions go smoothly."
"I was happy to assist with, or should I say, 'Be the guinea pig for' migration," said ASCTech web content manager Doug Dangler. "It was a really smooth experience. Eva Dale and Chris Wallace were great at communicating what I needed to do and it was done quickly and painlessly."
Advanced
Pull Quote
"I was happy to assist with, or be the guinea pig for, migration" — Doug Dangler
Text
Drupal 8 Migration Path
Departmental content editors will meet with Dale's team and receive training in the form of web videos created by Chris Wallace.
Editors prepare for a one-week content freeze so that Dale and her team can move content over to the latest version.
The web services team will migrate the content and do a rough check
Departmental website editors will review the site
Once the unit approves the site, it will go live.
Text
By The Numbers
1.4 Million: Monthly Page Views of ASC Websites
800,000 Unique Visitors Per Year
170 Standard Websites in ASC
Largest Site: Mathematics (they also have the highest traffic)
50 Webpages in an Average Site
Text
As the latest and most powerful version, Drupal 8 offers a number of new options. "I really like the increased layout options on the front page as well as the basic pages," says Chris Wallace. "It gives our clients a lot of new ways to make their site their own. They can highlight important programs, events, and deadlines. It really makes the site look inviting with the goal of to improve recruitment."
With so many websites to migrate, it may take a while before everyone is on the latest platform. The current estimate is that all websites will be migrated by early 2020. If you have questions, please contact Eva Dale.
---